Somewhere Out In Space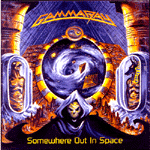 The-97 release Somewhere Out In Space must be one of the absolute best metal album in the world.The band changes again, Henjo Richter and Dan Zimmerman enters. The feeling I got when I pushed the play button the first time and heard the intro to "Beyond The Black Hole", can't be explained by words. And the rest of the disc!!! Puh...
Smash hits like "Guardians Of Mankind", Valley Of The Kings, Shine On ,
Somewhere Out In Space and many more... !!!!! BUY,BUY,BUY !!!!!
1.Beyond The Black Hole
2.Men,Martians And Machines
3.No Stranger
4.Somewhere out In Space
5.The Guardians Of Mankind
6.The Landing
7.Valley Of The Kings
8.Pray
9.The Winged Horse
10.Cosmic Chaos
11.Lost In The Future
12.Watcher In The Sky
13.Rising Star
14.Shine On
15.Return To Fantasy